9/11 Consensus Panel Member Tod Fletcher KPFA Interview: "The Pentagon Attack In Context"
"The Pentagon Attack In Context" with Tod Fletcher, on KFPA's "Guns and Butter."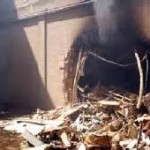 Tod Fletcher, one of 22 researchers on the 9/11 Consensus Panel, explains how the Consensus Panel works, and presents a contextual approach to analyzing events at the Pentagon, about which there has been a great deal of confusion.
Fletcher also discusses the lack of evidence to support the official claims regarding the hijacker story and the telephone calls from the planes. He then presents a cogent analysis of eyewitness reports, the physical debris, the photographic and video evidence, and the missing black boxes.
This evidence-packed interview, originally broadcast September 3, 2014 at 1:00 PM Pacific time, is now available online.
Editor's Note: Although individual Panel Members may have their own views about what impacted the Pentagon, the 9/11 Consensus Panel has not yet undertaken a full 22-member review of this controversial subject.