*** Les annonces du Consensus911 sont désormais ***
*** en page principale

www.consensus911.org/fr/

***
***
Archive des News du Consensus911.org
25 avril 2013
Le 9/11 Consensus a le plaisir d'accueillir M. James W. Douglass en tant que membre honoraire. M. Douglass, spécialiste de la théologie chrétienne et activiste pour la Paix est l'auteur de nombreux ouvrages, dont « JFK and the Unspeakable » et « Gandhi and the Unspeakable ». Il a milité pour la désobéissance civile lors de la guerre du Vietnam, et contre les armements nucléaires et la guerre d'Irak. Lui et sa femme Shelley sont les cofondateurs du Ground Zero Center pour l'action non violente, à Poulsho, Washington, et de la Maison de Marie (Mary's house), un centre d'accueil catholique à Birmingham, dans l'Alabama. Son livre « JFK and the Unspeakable » a été décrit par Oliver Stone comme « le meilleur récit que j'aie lu sur cette tragédie et ses implications ».
Mars 2013
Pour son édition de mars-avril 2013, le magazine français Nexus publie un article de 12 pages sur les 28 Points de consensus développés jusqu'à maintenant par le Consensus 9/11 Panel, ainsi qu'un chapitre sur l'effondrement du WTC7, et un autre sur le sondage ReOpen911 / HEC conduit pour le 10e anniversaire des attentats.L'article écrit par la journaliste Kim-Anh Lim, s'intitule "11/9, Une affaire classée ?" www.nexus.fr/
Nexus est vendu dans les kiosques et marchands de journaux sur tout le territoire français, et possède des rédactions dans le monde entier. L'article devrait être disponible en ligne dès que la sortie du prochain numéro. Pour obtenir un exemplaire du magazine, écrivez à abonnement@nexus.fr
17 septembre 2012
Le membre du Consensus Panel, Tod Fletcher explique sur American Freedom Radio les nouveaux point publiés le 10 septembre, à savoir Video-1, and Video-2, and H[ijacker]-1. L'interview de M. Fletcher's par Kevin Barrett était dans la seconde heure de l'émission.
* * * News en anglais * * *
September 11, 2012
The Consensus Panel's PR Newswire Press Release, "The 9/11 Hijackers: Fraud in Official Video Exhibits Uncovered by Expert Panel," appeared on September 10, 2012 on over 140 mainstream media websites, including:
September 11, 2012
9/11 Consensus Panelist Tod Fletcher was interviewed at noon about the 2012 Consensus Points on a Gary Null Show special on WBAI in New York. The show lasted an hour and gives a good overview discussion of some of the evidence the Panel has reviewed that counters the official story of 9/11.
May 2, 2012
The French translation of consensus911.org, which has been progressing for several months, was launched today and announced in a widely distributed Press Release.
The Consensus Panel thanks the committed members of http://www.reopen911.info for all their meticulous work, and welcomes the worldwide French-speaking community to its website.
Other translations in progress include the Spanish, Japanese, and Italian.
April 28, 2012
Consensus Panel Comings and Goings:
As the first year of the Panel's time-consuming work comes to a close, we announce the departures of Dr. Paul Zarembka, economist at the State University of New York in Buffalo; Canadian author and journalist Barrie Zwicker, an active senior participant in the Canadian 9/11 community; and former U. S. Marine Corps fighter pilot Shelton Lankford. We extend our thanks and appreciation to these gentlemen for their service to the Panel, particularly during the first round of Consensus Points, which were published in early September, 2011.
We also officially welcome Aidan Monaghan, who joined the Panel in February. Aidan holds a Bachelors degree in electronic engineering and is a Freedom of Information (FOI) researcher regarding the 9/11 attacks. Government 9/11 records obtained by Monaghan have been reported by the Beacon News Online of the Sun-Times News Group, KLAV AM in Las Vegas, NV, the documentary "Loose Change: An American Coup" and several books. His 9/11 research includes two peer reviewed studies.
March 1, 2012
Award-winning Progressive Radio News Hour host Stephen Lendman interviews Professor Matthew Witt, academic member of the 9/11 Consensus Panel, about his participation in developing the scientifically-based 9/11 Consensus Points. Dr. Witt, who has authored published studies on "State Crimes Against Democracy," (SCAD'S), discusses with Mr. Lendman the gravity and fallout of the virtually unthinkable state crime of 9/11 in this compelling archived interview.
February 23, 2012
Popular American talk radio host Gary Null interviews Elizabeth Woodworth, Co-founder of the 9/11 Consensus Panel, about some of the major Consensus Points established by the expert group to date. Woodworth summarizes these points, and the scientific method used to derive them, at the 25-minute mark of this archived interview.
February 1, 2012 (9/11 Consensus Panel in the News)
"Consensus 9/11: Seeking Truth, Dispelling Lies," by award-winning investigative journalist and radio host, Stephen Lendman:
"9/11 was the defining event of our time. Multiple wars followed. More are planned. America's business is war – permanent, destructive, lawless ones.
Global terror wars rage; another on truth, democratic values, rule of law principles, social justice, and freedom.
Debunking the official 9/11 lie is a vital first step to ending the global nightmare threatening humanity if it continues."
January 21, 2012
Progressive Radio News Hour host Stephen Lendman interviews co-founder (Dr. David Ray Griffin being the other co-founder) and coordinator of the 9/11 Consensus Panel, Elizabeth Woodworth. Ms. Woodworth presents the biographies and credentials of all 22 Panel Members, and the Panel's four Honorary Members, and also their contributions to the encyclopedic knowledge that has been unearthed about 9/11 by the professional independent research community. This evidence has not yet been presented through the mainstream media to enable citizens to make democratic decisions about foreign policy based on full information. The interview also discusses the new concept of State Crimes Against Democracy, as illustrated by the 9/11 example.
January 16, 2012
Interview of Elizabeth Woodworth with radio host Barry Shainbaum, whose program broadcasts in the Kitchener, Woodstock, and London, Ontario area. Ms. Woodworth has founded (with David Ray Griffin) the 9/11 Consensus Panel. This interview occurred during the second half of Mr. Shainbaum's program on January 15, 2012. Barry Shainbaum has hosted, among others, Daniel Ellsberg and former US Senator Mike Gravel, who worked together to expose the Pentagon Papers, Sibel Edmonds, Linda McQuaig, Paul Hellyer, Martin Sheen, Dr. David Ray Griffin, and Dr. Paul Zarembka. Mr. Shainbaum will be interviewing Dr. Noam Chombsky in February 2012.
December 10, 2011
Panel Co-Founder and Coordinator, Elizabeth Woodworth, was interviewed for 30 minutes on television about the Panel's Consensus Points, which were backed up with excellent graphics. The interview may be seen on YouTube, "Face to Face With Elizabeth Woodworth and 9/11 Consensus," and on Vimeo.
November 23, 2011
Dr. Lynn Margulis, an Honorary Member of the 9/11 Consensus Panel, died at home on Tuesday November 22, at the age of 73. Having authored dozens of books and scientific papers, Margulis was awarded the National Medal of Science in 1999. Read more …
October 26, 2011 (9/11 Consensus Panel in the News)
Brian Burchill, "The 9/11 Consensus Panel," Foreign Policy Journal, October 26, 2011:
"The diverse knowledge and expertise of the panelists, and the methodology used, give this 9/11 Consensus Panel a high degree of distinction, integrity, authority and credibility. This … provides the mainstream media with opportunity to confidently promote serious discussion, even challenge the official narrative, about this world-changing event with its continuing fallout."
October 5, 2011
Below is an open letter from the 9/11 Consensus Panel to the editor of Foreign Policy News: A 9/11 Re-Investigation and the Power of Consensus Statements: An Open Letter to Senator Bob Graham, Michael Moore, and Amy Goodman
October 3, 2011
Publishers Weekly, the prestigious reviewing journal for libraries and the book trade for over 100 years, has published an exclusive review on Dr. David Ray Griffin's most recent book, 9/11 Ten Years Later. Current reviews are available online only to subscribers, so the review is copied below:
9/11 Ten Years Later: When State Crimes Against Democracy Succeed David Ray Griffin. Interlink/Olive Branch, $18 trade paper (256p) ISBN 978-1-56656-868-5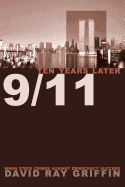 The official government story about the attacks of 9/11–that 19 Al-Qaeda operatives hijacked four planes and flew them into the World Trade Center and the Pentagon, causing the deaths of nearly 3,000 people–has been accepted by the American masses for 10 years and used as the pretext for wars in Afghanistan and Iraq. Griffin (The New Pearl Harbor), who has written numerous books on 9/11, systematically challenges each aspect of the government's case. He provides chilling evidence to support his claims, and points to large organizations of professionals who doubt the official story. Griffin claims that 9/11 was a "false flag" attack perpetrated by the Bush administration to incite Americans into combat in the Middle East and allow a number of personal freedoms to be sacrificed to the government in the form of the Patriot Act. While "truthers" (disbelievers in the government story) have been dismissed as cranks and conspiracy theorists, Griffin presents a brilliantly assembled, plausible case, full of scientific accuracies and meticulous citations. While undoubtedly repetitive, Griffin's calm approach will lead all readers to think more skeptically about the official story. (Sept.)